The European economy has experience turbulence since the Brexit, but it has not affected the mobile commerce. Mcommerce is indeed growing in Europe and most businesses are making the most of it and this also includes the government organizations. If you are planning to invest in mobile commerce this year, it looks like a pretty good time to do so.
Mobile commerce is expected to grow immensely in the coming years. So this is a good time to invest and start being player in the market. The most growth of mobile commerce is expected in the Nordics. Although the Dutch are said to not use smartphones to shop online while the Turks using the apps.
A research by PayPal with sample size of 17,500 consumers says "One in Three online shoppers use a smartphone to buy online".
After Google made it compulsory for website to have mobile friendly pages, the importance of mobile commerce increased and at this point in time, the IT industry in Europe is essentially looking at growth in mobile commerce with more consumers between 18-34 years shopping on their smartphones.
M Commerce Apps – Emerging Trend in Mobile App Development
The use of mCommerce applications is seen to be growing; the usage of mCommerce apps is also expected to increase in the coming years. With new age technologies like NFC and behaviometrics, fingerprint recognition, payments have become easier and secure. Thus, the audience is also ready to accept mCommerce heartly.
A report by BI Intelligence mentioned "By 2020, mobile commerce will make up for 45% of the total eCommerce mobile, equaling $248 billion in sales. That's more than 3 times of what is expected for 2016. BI Intelligence predicts mobile commerce will hit 20.6 percent of overall eCommerce or $79 billion.
The Statistics of Usage of Mobile Phones in UK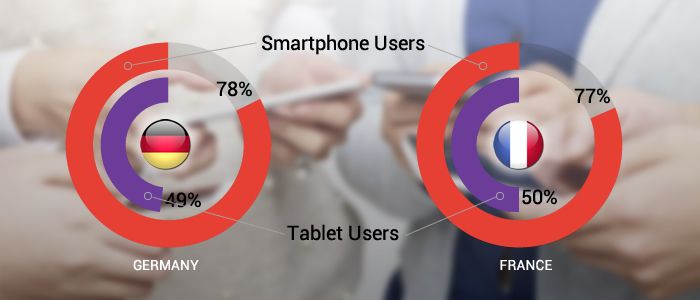 Mobile Web is Taking Over
Mobile web is the next big thing. We all are aware where this has headed. In the age of progressive web apps, soon business will have to shift completely on mobile commerce. Just everything online takes the users to the browsers. Only giants like Amazon, Walmart are able to get enough of the regular usage. A report by Moovweb, a mobile optimization platform said they are getting regular usage on their mobile apps in order to outspace their traffic and purchases on the mobile Web.
See Also: 10 Killer Mistakes You Must Avoid in Website Creation and Web Design
In 2016, the mobile usage in Europe was 23.4% compared to 33.49% in the US. The European countries share high rates on mobile usage – Germany (34%), Sweden (29.4%). However, the online sales are expected to go more than 89% in Europe by the end of 2017.
The fact is that mobile commerce is growing, it is still in the growth stage. The conversion rates are still the desktop game. Although it is the source to take the users to the desktop which will eventually get discarded. This has been the case because of the small screen devices where it is harder for the user to find the products and read product details. It is rather easier for the consumer to give up on the purchase or browse further. Soon, when mobile experience will be more interesting and easier, there will be no looking back for mobile commerce industry.
Germany and France are considered to the mature markets and are expected to grow at the slower pace in comparison to the markets . Although Germany is still growing faster as maturity is a tendency and not a scientific understanding. If you are planning on your mobile ecommerce app development or mobile app strategy, then considering the trends in Europe, the rates for development are very competitive.
France, The Netherlands, Switzerland, Sweden and Austria are mid-range markets which will see growth with the increase in mobile users and shoppers that frequently shop online. And among the immature markets are countries like Italy, Spain and Poland that are still fighting hurdles of structure and quality in communications. And thus, soon these markets will be the new emerging scene in mobile commerce. They are expected to develop at a fast rate with the increase in the number of mobile users in the next 5 years.
Top Areas of MCommerce
• Money Transfer Apps
• Ecommerce Platforms ( B2B & B2C)
• Travel Apps
• Online Booking & Reservation Apps
• Event, Entertainment and Ticket Booking Apps
• In App Purchases
Western Europe Online Sales grew from £174.76 billion in 2015 to £201.90 billion in 2016. And it is expected to grow £230.62 billion in 2017. And further in 2018, the online sales are expected to reach £262.46 billion.
According to Criteo, m commerce is outgrowing desktop. The European countries are going in the same direction with UK 51%, Germany at 38% and Netherlands at 36%. This indeed highlights the importance of mobile commerce for online retailers.
Mobile Apps will most definitely not surpass the mobile web this year. But yes, we can see it go closer. It is as close as 40% of mCommerce. If you are a retailer and not offering mobile sales, then you will be losing on much business this year.
AI Enabling Improved MCommerce Experiences
There is a need to explore the possibilities in user experience in Mobile browsing experiences. With the advancement in technologies, Artificial Intelligence is one of those technologies disrupting the mobile commerce industry.
With the help of machine learning, Chatbot will help in improving mobile experiences and enable users to interact and enjoy shopping experiences. It will complete the need for two way communication during purchase.
Artificial Intelligence will make mobile browsing smarter and thus help users to navigate easily, read product relevant product reviews or get assistance anytime anywhere. And what else? Encourage to navigate further and not give up on the shopping experience.
Yes, Chatbot yet have not gotten to that level but in the next 5 years, we will have the advanced highly intelligent Chabots who will take shopping experience to a whole new level.
Conclusion
Mcommerce is a very big part of the future of the IT industry and so the competitiveness will affect the prices in the market for mobile development and mobile computing. The companies availing mobile app development services are now offering mCommerce development services where mobile computing and mcommerce applications will play a huge role in Internet of Things, Augmented Reality and Virtual Reality. Europe is also undergoing the same stage where mobile commerce has just started to grow and soon will be flourishing. Hope this was an insightful read. Share your views with us; we would like to know more.