The number of mobile users has increased exponentially over the past few years; thanks to the constant pace of innovation which is making technology affordable. Data from Statistica reveals that by the end of 2017 the number of mobile phone users would reach 4.77 billion. And in 2019, this number is estimated to shoot up to 5.07 billion.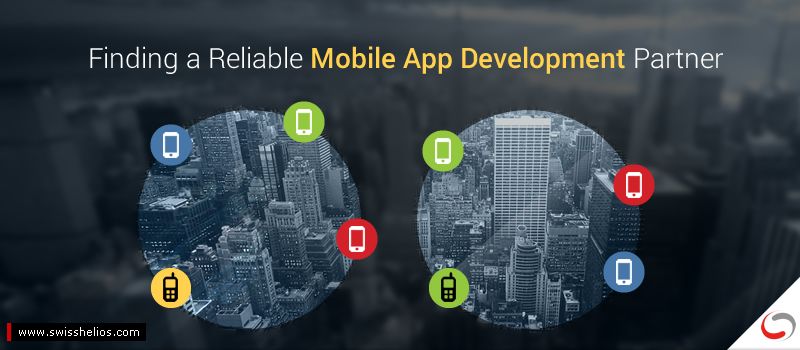 Why mobile application is a business imperative?
Given the tremendous increase in the number of mobile users you cannot imagine surviving and sustaining in the market without coming up with your own mobile application. Still if the aforementioned figures are not convincing enough, let's put a glance on the following stats by Channel Advisor Corp., a leading provider of cloud-based e-commerce solutions.
Their mobile sales had soared to a record $449 million in 2016.
Smartphones had accounted for almost 70 percent of the overall traffic and additional 8 percent by tablets.
Last year on Thanksgiving Day, for the first time in their history, mobile e-commerce orders surpassed desktop orders. Moreover, a mobile device was used to complete almost 53 percent of total orders.
Mobile applications provide you with easy and effective ways to reach out to your target audience and also meet with your objectives of revenue generation and value enhancement.
Given the demand, many mobile app development agencies are coming up in your vicinity with promises of doing unique and creative job. Choosing the right mobile app development company is synonymous to success; however, being spoilt for choice, finding one is a daunting task.
In today's post we would discuss how to find a reliable mobile app development partner and what are the factors that you need to consider while choosing your potential mobile app development partner. Let's get started!
How to start looking for a mobile app development partner?
Well, here we are discussing about three basic ways to get started with your search for an outsourcing mobile app development agency:
Utilize your professional network
Professional app development companies with years of experience are often in great demand, expensive and even not interested in all sorts of app concepts.
Do not underestimate the power of your personal network; you never know, you might easily search out your potential partner via your connections. Just make sure you let them know about your needs in a precise manner.
You can also use options such as personal posts as well as social ads but make sure they are relevant, visual and have a clear call-to-action in place.
Leverage the power of social media
You can post your requirements with your project description on social media networks like LinkedIn, Twitter, Facebook or Instagram.
LinkedIn, for instance, is a very crowded space and competitive at the same time. You might discover that you are not alone in your search. There might come across possible options and also find reviews or feedbacks by others. This would help you in making a decision.
Research via search engines
This is the simplest part wherein you just need to open a search engine like Google and type down your request. Prior to that you would need to decide the region you want your outsourcing partner from. Take your time out to find out why India is the most preferred outsourcing destination in Asia.
The search results would show many companies and the big names would naturally appear on the first page. Their rates would be higher but decide on companies based on your needs against their capabilities.
Note down quite a few names and later on you can zero in on one after considering the following factors which would be discussed in the next section.
10 Factors to Consider While Hiring a Mobile App Development Company
Now that you have shortlisted few companies, consider the following aspects while picking the one that aligns with your mobile app development needs:
Fully understand your needs
The first step towards selecting your app development partner is to understand your own project requirements precisely. You must be able to clearly define the things that you want in your mobile app.
Now, it is obvious that the functionalities that you are looking for would be dependent on the industry you are operating in and also on the type of products or services you are dealing in.
You would also need to do some research in order to find out if someone has already made a similar app. If yes then how you can differentiate and add some value to it by being innovative.
Track record
If a company is adept at mobile app development, it will have a proven track record of working on different types of projects catering to different industry verticals. Their versatility and experience will help you determine whether they are the best fit for your app development project.
Dedicated project manager
Project managers serve as a bridge between you and the development team of your hired company. We at Helios understand that cultural gap could hinder effective communication which in turn could affect the overall project.
So to bridge the cultural and communication gap we have housed international project managers who have been communicating with clients in their native languages; thus ensuring that subtle cultural nuances are taken care of effectively.
Turnaround time
It is very important for app development companies to be able to work on tight deadlines and meet with them each and every time. This is because in the digital world if you delay your app launch you might lose many potential business opportunities.
So, make sure the company you are going to hire has a fast turnaround time so that you can keep pace with the competition and stay relevant.
Customer-centric focus
A brilliant mobile app development company basically focuses on understanding the needs and objectives of their clients instead of pushing their thoughts on them. At Helios, we first try to understand the business goals of our partners and therefore we have always been able to empower our clients with quality products.
Experience in multiple platforms
A quality app development must be proficient in developing app for different platforms and this is one of the crucial aspects of differentiation. The process adopted for Android platform is entirely different from iOS app development.
We always allow our clients to select their desired platform rather than forcing our choice on them. So, you too never go with a company which forces you to adopt a platform.
Collaborative approach
Your outsourcing mobile app development partner should include you as a customer into the development process. We include our clients in the loop of development to make sure that all their business requirements are being met. Moreover, this not only enables us to maintain transparency with our clients but facilitates constant communication with them.
Balance between quality and cost
You must keep quality of work as the first criteria to shortlist the agencies. This is because companies offering cheaper rates often lack quality, skills, infrastructure, experience and creativity.
Remember you app is going to be the face of your business, so you should not compromise with quality.
Cost should be your subsequent criteria to help you select the option from the quality-filtered results that best fits your budget.
Our mobile application specialists are adept at delivering quality apps at competitive rates.
Consultation on revenue generation
Your app is not only a window to your target audience but also a significant tool to generate lead and revenue. Your potential app development partner should be able to provide you with consultation on how to generate revenue stream for your app in order to effectively leverage app monetization. This is because the ultimate aim of your app is to boost conversions and sales.
Long-term relationship
You should never think mobile app development as one-time process. This is, in fact a continuous process of development. Therefore, look for a company that believes in establishing long-term relationship with their clients.
Hence, you must also check the reviews and feedbacks the company has received from its existing clients.
Wrapping up
While choosing your potential partner always keep in mind that your decision is going to affect the credibility of your brand. So, make sure it doesn't affect negatively!
What aspects do you consider while choosing your potential mobile app development partner? We would appreciate if you could enlighten our readers by sharing your experiences. Please begin a conversation by leaving your comments below.
Original Source: Helios Solutions