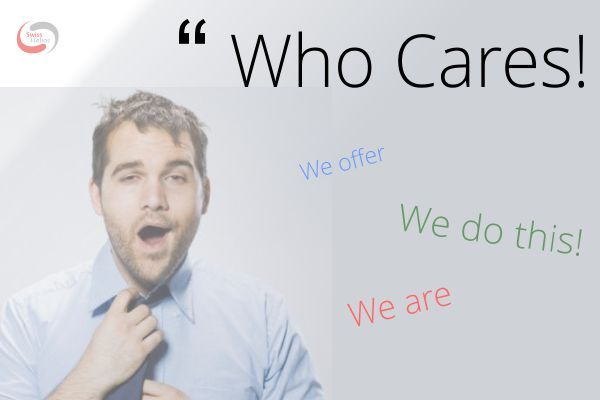 When founding a company like SwissHelios many things change. One of them is that I get more mails from more people offering us their services and the theme is always the same: they declare to me what they do and what they have done:
We are the leading …   We have done xxx projects…   We have xxx programmers with yyy competences…    We have experience in zzz industry…  We offer this….. Our unrivalled that…
But who ever wakes up thinking: what I want today is nine Drupal programmers and talk to the world's leading .NET ninja!!!' Perhaps they have done but the rest of us think: Who cares? Nobody in this world wants .NET, Drupal or programmers.
What we actually need and care about are contributions to our success. What we do wake up and think about are some things like:
How can I convert my idea into business?
What can I do to shorten time to market?
How can we finish our key project on time and on budget? Or perhaps
What can help me to grow without increasing overheads?
Think about your website, your marketing materials, your proposals: Do they focus on selling 'your stuff' (we do this – we have that….) or do you first emphasise what your customers are really looking for: value your offering can provide to them?
When defining our new website we wanted to take our experience in consulting and coaching value definition and communication more than a notch further. Our audacious objective was to create the most customer centric website in the world! The result? Have a look here at www.swisshelios.com and judge for yourself!
It may be for some that how we choose to flip communication around is too drastic, too unusual. Well, that's ok. There are approaches which sit somewhere between our radical site and the 'so what, who cares?' positions of the 'We are…We do … We have…' approach.
How about simply making sure that you are starting off with 'You get … You can…. You gain… "?
By Erwin Peter