The ecommerce industry is getting competitive by the day and the worst part is that your competitors are just one click away. So, if you do not come out with innovative ideas to engage your customers then they may even defect to your competitors. Here are some cool design tips by our team of ecommerce development specialists to enable you to improve your e-store sales: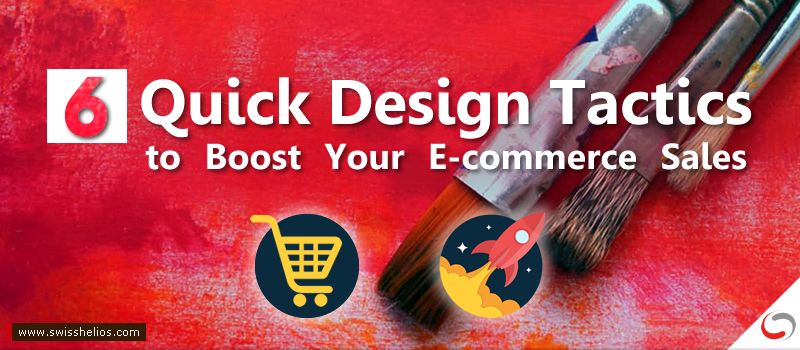 1) Show them different ways of using your product
Tell the benefits of your product in a very creative way. For instance, if you are dealing in food products then keep in mind to include images of different recipes wherein these food items are used as ingredients. Let your users download the recipes, it will not only engage them in a better way but also create a demand for your products.
In the words of legendary Steve Jobs, "A lot of times, people don't know what they want until you show it to them."
2) Initiate a symbiotic relationship with your customers
Roughly defined, symbiosis is a partnership between organisms. Your customers can be your partners in your journey to success. Let us tell you how you can make your customers work for you. Yes, you read it right.
Product videos are a very good way of influencing purchasing decision but creating videos can be very time consuming process and hiring someone for the task can be expensive. So, you can allow your users to submit their videos with product overview to your e-store. In return, you can offer them incentives such as bonus points, discounts on future purchases, etc.
3) Let your customers do the promotion
What do you search for prior to making a purchase online? Customer reviews for that product, right! We all do, as we want to be sure that we don't have to repent after buying that product. Therefore, your customers would love you for including more and more user-generated content like reviews, testimonials, etc.
You can also take this further by giving them a way to submit videos or images using your products. You can share them on your social media channels and guess what; your customers backing up your products would be the best and genuine promotion of your products.
See Also: Exploring Artificial Intelligence in New Highlights with PREDICTIVE LEARNING
4) Add hover effect and quick view option
A static product page does not trigger much curiosity in the users; so consider including multiple views and hover effects to give them interesting ways to digest your content. Making your customers' shopping experience pleasant would ensure that they return to your site again and again.
Collaborate with us for rendering intuitive experience to your customers and saving their valuable time with quick view options and "Add to Cart" button upon hovering the product images.
5) Let background add some subtle information
Typical product images just feature the item itself or depict the same in a functional sense, e.g., drinking glasses and tumblers with fruit juice or wine. You can take this further by adding a monochrome image in the background that tells about the origin of that product without spelling it out for your customers.
For instance, if you are selling TimTams biscuits from Australia then you can add an image of Australian iconic biscuit manufacturer William Arnott or his original factory in the background in monochrome. Always remember that simplicity and minimalism is the key.
6) Use close-up details of product to guide purchasing decision
While you showcase your products, add close-up details so that users can view even the minutest details of items that have intricate design. Try to use different camera angles to create images that stimulate interests of users and influence buying decisions. Also facilitate better understanding of the surface materials, texture, craftsmanship and other aspects of the product to help buyers make informed decisions.
Conclusion
These tips are proven strategies to improve business bottom line and they have yielded wonderful results for our ecommerce clients. Being an outsourcing ecommerce development agency for more than a decade we have shared our experience. Have you ever put these tips into play? We would love to know even if anything else has worked well for you. Let us know by leaving your comments.
Original Source: Helios Solutions