You have launched your startup recently and now you want your audience to find you. Don't you? At the same time you want to remain accessible 24/7 in order to boost customer satisfaction. You also want to reach out to a wider audience and your sales to soar. Wondering how to materialize your goals?
Building a website can enable you to achieve all your goals but beware! You must avoid the following mistakes to ensure the success of your business: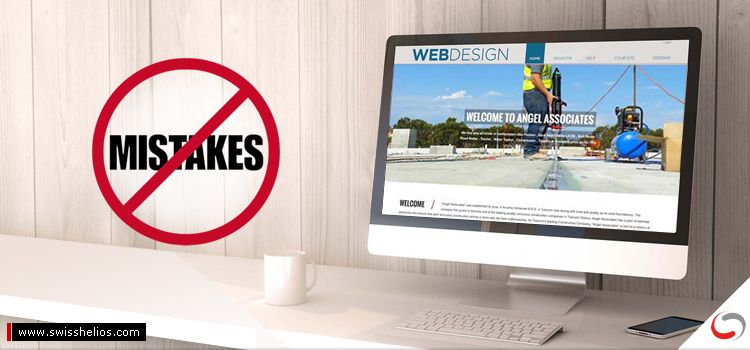 1. Failing to optimize your site for mobile
In this mobile-first era, an increasingly large number of people depend on their smartphones to accomplish their day-to-day activities; personal and business as well. If you are not delivering pleasant web experiences across devices then you are losing out on potential customers. Don't you think so?
Therefore, it is critical to use responsive web design for your website in order to ensure better user experience on mobile devices. Moreover, there are technologies such as progressive web app and accelerated mobile pages which are dedicated to render polished web experiences on mobile devices.
2. Underrating the value of catchy domain name
Domain name is very important for your website because it makes your startup get noticed on the digital realm while a user is on your site. An easy-to-remember domain name will gel well with your existing as well as potential customers. Moreover, it will contribute to the credibility of your startup too.
Therefore, being a professional web design company, we recommend you to take time and select a domain name that is catchy and reflects your business individuality.
3. Too many call-to-action incentives
Did you ever browse through a site that offered multiple incentives to buy something? You must have abandoned the site for a more genuine resource, right!
It is obvious that you would want to be noticed but being pushy won't bring the desired result anyway. Instead, optimize your landing page and have a single, clear and precise call-to-action statement on your site.
See Also: Software Development Evolution: From Waterfall To Agile To DevOps
4. Poor and boring content
If your website content is unattractive and dull owing to inadequate word selection, lots of errors, lack of uniqueness and promo content in abundance then it could be a huge disappointment to your audience.
We recommend you to put in place a website specific plan comprising of content strategies and campaigns. This would help you to build quality content and that in turn would establish your website as an authority within your industry.
5. Conspicuous inconsistency in web design
Your website is not a platform to display your artistic skills; it's rather an effective tool to create a lasting first impression on your visitors.
Therefore, your website design should be consistent and every aspect such as fonts, colour palette, content, etc. must be thoroughly thought over to end up at a properly organized and well-structured design.
Getting your website designed from an experienced website creation company would ensure that your website design is aligned with your brand values.
6. Leaving your site visitors at a dead end
Imagine your friend has sent you a URL of a recipe page. You just loved it and now you are interested to know more about that site. But alas! The page doesn't have a link back to the home page and you are just left at a dead end. Aren't you cursing the site owner?
Always remember to provide every page of your site with a readily seen link back to your home page. Linking your business logo, usually placed at the top left of a web page, to your home page is a best website design practice.
7. Underestimating the power of typography
The choice of proper font combinations for your website can be a challenging task but your efforts won't go in vain. If you do everything right, you would see results pouring in. The power of typography is often underestimated; in fact, it can make or break the entire design of your website.
We would suggest you to experiment with colour combinations, fonts and other typography elements through A/B tests. Pay heed to the feedbacks of your site visitors and you would eventually arrive at an appealing design.
8. Poor website navigation
If your site visitors cannot figure out where to go next swiftly and get there easily then they are sure to defect to the competition. Make sure that every necessary page elements as well as pages are logically placed on your site so that users can move around your site seamlessly.
Use breadcrumbs or navigation bar so that visitors are well aware of their position on your site and are intuitively guided to other areas of your website.
9. Forgetting to link with your social network sites
Today, not having an active presence in social media channels could be detrimental to your business because your audiences thrive on social media. Many businesses are benefitting from having a presence in Facebook, Pinterest, Twitter, etc.
Failing to link your website to your social media platforms can be a fatal mistake. Make it easier for users to move from one to the other and get ready to witness a surge in your website traffic.
10. Failing to prominently display contact information
If you fail to provide your visitors multiple ways to contact you then you are missing out on the opportunity to build trust with them. Your site visitors may not reach you ever but the very presence of this information adds transparency and real-world legitimacy to your website.
Therefore, make sure to display complete information about you like mailing address, phone, email, etc. at a prominently on your site. Don't forget to link that to each and every page on your website.
Wrapping up
The approach of website creation significantly impacts the success of your website and business as well. Done right, it can enable you to get satisfactory results.
Therefore, we always analyze all the nuances and make a detailed plan about the structure, model and design to avoid facing problems in the course of website development.
What is your approach to website design and development? Would you like to add any other mistake to the list? We would love to hear from you; please let us know by leaving your comments below.