In a Nutshell
Engage366® is a solution which helps attract more clients more often to a specific location and spend more money there.
Locations can be any places people go to buy ore have fun, such as tourist destinations, shopping centres or city centres. Engage366® is a catalyst bringing all stakeholders in such a destination together to collaborate for the benefit of each one of them, be it shops, restaurants, hotels, ski or diving schools, transportation companies, tourist offices, tourism or shopping centre marketing organisations,etc. Only when collaborating can they offer more value to their visitors than competing destinations or shopping centres, can they attract more visitors more often and have them have fun spending more money.
This common platform has visitors benefit through a multitude of elements, e.g.
a common loyalty program

easy to get and up to date information needed to plan a visit, a day or a vacation resulting in a "best use of our valuable time" feeling but also an impression of having gotten value for money

the information also helps "non-planners" to take informed spontaneous decisions, to buy wisely when being on site, to book a ticket to a show not to miss, reserve a seat at a restaurant or get one of the "specials" which in addition is relevant considering one's own interests and close to the specific location

feedback from former visitors helping even more to take easy and quality decisions

Book services or tickets and buy goods, food etc. with ease

Pay easily, fast and save without handling bills and coins, abroad without having to change money and without bad surprises on credit card statements.
This document describes the philosophy behind Engage366® as well as structure and functionality more in detail.
How it started
2014 our client ATON (headquartered in the Netherlands) was looking for a reliable software developer to help them build a comprehensive mobile marketing, customer engagement and community loyalty platform which could be implemented in retail environments with multiple stores/restaurants.
The idea was to enable retail merchants to engage with customers, increase customer spend and build customer loyalty enhancing their marketing arsenal by publishing contextual content on mobile devices and gathering information on customers' purchase journey.
We were excited and went on to create a system for retail environments that would work interdependently between retail merchants and customers in different retail environments as shown in the following illustration:
Understanding stakeholders and needs
When looking at the task more in detail it soon became clear that this was a complex project with a variety of stakeholders and differing needs:
Consumers with different levels of mobile activities and competences

A variety of potential merchants such as retail chains and shops with a variety of goods they sell in store and possibly also over the web, cafés and restaurants with different menus, individual hotels and resorts, bike, surfboard, ski or car rentals, buses, trains, taxis and cable cars.

Organisations such as shopping centre operators, hotel associated tourist offices.
It was therefore clear we had to carefully think about the needs of all stakeholders involved before starting development. In this document we will mainly focus on shop type merchants which was the first type of stakeholders Atos wanted us to address. Let us know if you want to know more about others – we have the answers.
Understanding consumers' needs
It was clear to us that our main clients' needs, the merchants', could only be reached if they provide value to their customers. The needs analysis therefore focused first on looking at how mobile device oriented customers of retail outlets could benefit from the solution and defined the following initial objective:
"Enhancing customer experience in the retail environment by providing more value for the same amount of money: Engaging, Promoting & Rewarding Loyalty"
We were aiming at building a solution which would enhance customer experience and subsequently increase customer engagement. All of this required communicating with customers via smart phone while they move around shopping areas or within a store by availing promotions and rewarding customer loyalty.
Understanding merchants' needs
After understanding customers' needs, we identified 4 key merchants' needs our solution would have to satisfy:
"Enhancing customer experience in the retail environment by providing more value for the same amount of money: Engaging, Promoting & Rewarding Loyalty"
Get the customer into the shop and motivate consumers to buy.

Get customers into the location/environment

Gather customer intelligence to improve effect and efficiency of marketing activities

An easy to operate, solid backend solution.
Developing the solution
1. Attract customers to a store and have them buy: Contextual Publishing
Big picture
The objective of our main constituents is simple and clear: attract more customers to the store, restaurant etc. and have them buy more. The question was how we could achieve this. Merchants arecompeting with others in that city/shopping centre/vacation destination/resort environment. Reaching out to today's active mobile device users becomes a critical success factor to be noticed. Notifications have to be well targeted, relevant to the respective recipient to prevent an adverse spam perception effect. This is why we created a platform allowing merchants to publish their offering and promotional deals and push them to customers based upon their preference and proximity to the outlet.
Details
A Robust Notification System
Engaging customers is the prime benefit of this platform. Merchants can not only avail them with offers but also notify them based on their location in real time be they are far away, close to the merchant's place or already in it. We introduced iBeacon technology to transmit signal and pair the different types of beacons with customer's smartphone through Bluetooth Low Energy.
Personalize Engagement through Beacons
Configurable notification: in-store, outside store, near product display

Notification for pushing information like welcome note and promotions & deals

Information of active customers and tracking of customers visiting again

Notification with Regulation

Regulation on number of notification

DND hours of notification

Enabling merchants with scheduling feature to push notifications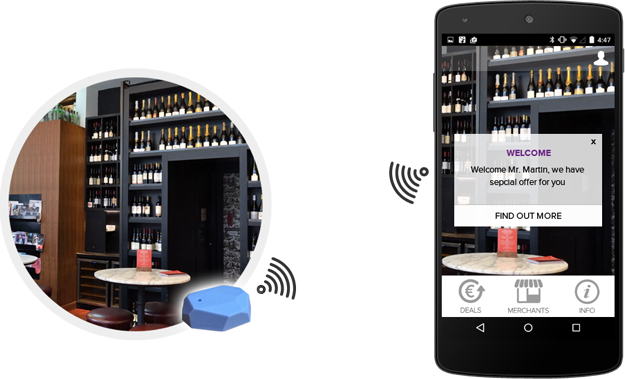 Personalized Engagement through Beacons
2. Attract customers to a location: Community Loyalty & Promotions
Big picture
We then looked at it more globally. How can a merchant attract customers when few people only go to his environment? We looked for ways to make a location more attractive to potential customers and created the concept of community loyalty and promotions. We apply the concept of brand oriented loyalty points to a destination, across all merchants present there. Customers can now gather and spend points at any outlet in that environment, e.g. buy cloth in one shop and spend the points gained at a café around the corner.
Getting points fast and easily
It was clear to us that neither merchants nor consumers want to lose time in the payment process due to loyalty system handling. We looked for technologies and a process to guarantee a smooth, safe and swift transaction and developed the following solution:
The merchant's and the consumer's devices are connected via a sound beacon

The consumer scans the QR code given by the merchant.

Merchant addsthe number of deals availed by customer, and automatically points are transferred to customer.
Spending points fast and easily
The same technology is used for the last part of the front-end process: redemption of points.
QR Code Scanning – Show the generated QR Code to the merchant who will scan it through his merchant app.

Sound Technology – Play beep sound near to the sound beacon connected on merchant computer to the counter.

Payment Code – Simply pass on the payment code to the merchant for manual transfer.
3. Gather information – more impact for money spent: Dashboard
Points 1 and 2 of the solution allow the system to gather a wealth of information. The best, the most successful merchants want to use the information to constantly enrich their marketing and make it more efficient based upon their insight into customers' preferences for certain types of marketing activities, products and services, into what works and what doesn't work. We therefore took the solution a step further and created a reporting and analytics module includinga dashboard, providing information on a daily, weekly and monthly basis. In addition to providing marketing information some dashboard elements can also help plan staffing.
4. An Easy-To-Use Platform Back-End
In order for merchants to make more money they also need to invest into feeding the application, hardly the preferred activity for many of them. We looked for an easy way for them to do it and have created a mind-map based interface with the most important features in a very simplified way.
Profile Management

Promotions & Deals Management

Loyalty & Reward Points Management

Beacon Management

User Login Management

Customer Reviews Management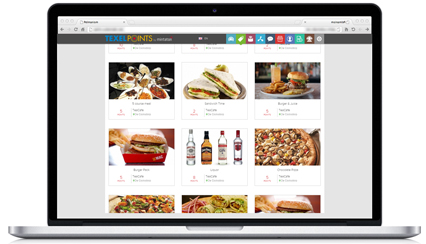 The "final" solution
Below you'll find an image of the solution as it is now. It will never be final. We market it as Engage366® solution and will add standard functionality as needs arise. Individual add-ons could make sense for many merchants, such as linking Engage366® to their POS system in a restaurant or shop or to integrate the solution into their group loyalty system or a web-shop.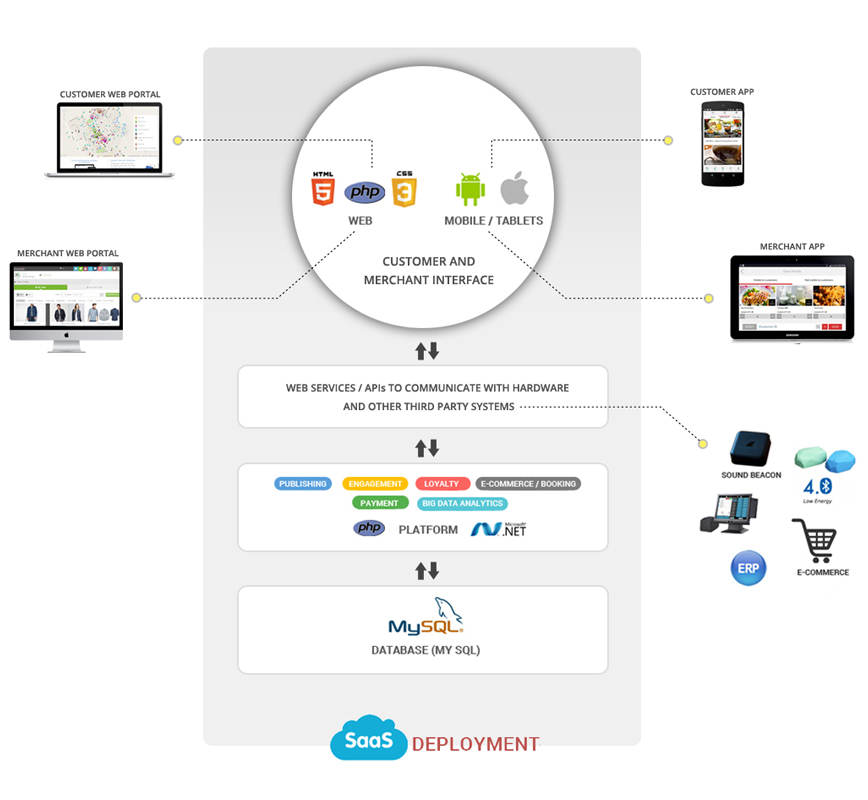 Contact SwissHelios should you also need complementary or additional resources/skills/experiences to ensure that your IT systems continue to be a potent business success enabler, to help you remain competitive and efficient.