The beginning of our collaboration
Rob Schampers is a very interesting personality and the CEO of one of the prime insurance companies working withAchmea - the largest insurance company in Netherlands. He met with the CEO of Helios Solutions over a dinner sometime in 2015.
As an insurance broking firm, his business is about selling car insurance through a network of 150 car dealers and a marketing call centre with 200 agents.
Phase 1: Sharing of Ideas
During this dinner, Rob showcased his platform which was developed in one year by another IT company in Netherlands. Looking at his current platform, our Helios team suggested the following:
Add an interactive and 'easy to use' front end for customers

Add an administration system including a dashboard which would make operations efficient and help management to focus on their business.

Have the platform sell directly from the car insurance agency website where the customers could select any kind of insurance from the same platform.
Seeing the result of our platform review Rob understood that we ought to establish a different type of relationship: Helios should actas Rob's company's thinking partner vs. be just another software service supplier. This loose sharing of ideas led to the beginning of this remarkable partnership.
Phase 2: Brainstorming: Define and structure the solution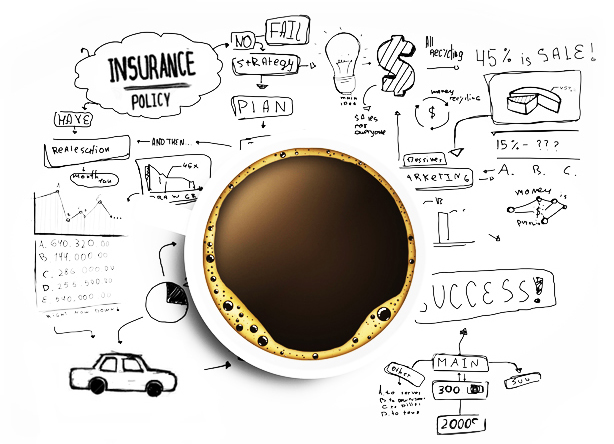 The next phase of collaborating had both sides understand that the ideal solution should not only focus on what had been intended with the initial development, but that it should include:
An online insurance booking portal which makes it convenient for customers to log in by sharing minimal information. Based upon this information the system should offer them a variety of insurance policy options to choose from. This part of the solution should have more potential customers click through the system to buy insurance, should increase sales and share of wallet.

A backend management system to support more than 100 car dealers and 200+ call centre agents. This solution would help Rob react faster and operate more efficiently.
After 200+ cuppa coffee over three weeks of brainstorming, the team produced:
A clickable wireframe prototype

A technical development architecture

A modular development plan including milestones
Phase 3: Developing the solution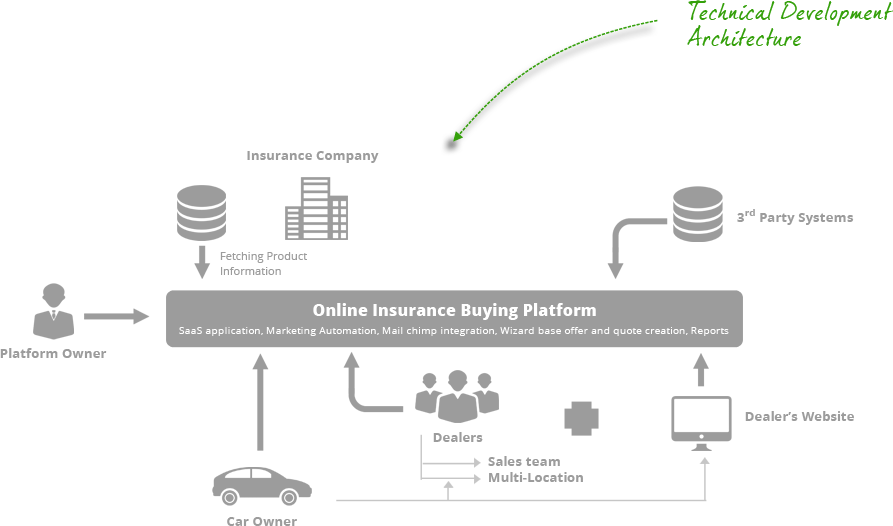 We then proceeded to program the solution with the following elements:
A SaaS based web application for dealers and call centres
Vehicle dealers can showcase their brand presence, sub dealers and user groups.

A configurator allowing them to calculate for insurance premium.

A 3 step wizard for writing quotationsand pass on insurance subscriptions to Rob's company.

Management of back office processes by call centre staff and dealer administrations.
A Dashboard
An interactive dashboard for sales personnel, dealer administration and site administration to monitor sales and other activities.

The dashboard is configurable by call centre's and dealer's administrative personnel.
Web API's (Application Programming Interface)
A web API which allows fast and easy submission of vehicle details speeding up the process of getting quotations and insurance policies.

API integration with the Dutch vehicle registration system (SAMS). Itallows vehicle dealers to directly register cars, making them more efficient which for them adds value to the collaboration with Rob's insurance company.
Availing Third Party Integration
Integration of third party web services for obtaining vehicle information and company contact details.
Graphical Reports
A reporting system allowing filtering and comparing data stemming from two different time periods.

Including a function allowing conversion of the reports into .xls or .pdf formats.
Mass Mailing
Integration of the Mail Chimp mass mailing module allowing vehicle dealers'administrators to run sales campaigns.

Tracking of mailing activities using Mail Chimp APIs.
Mobile Web App for end user customers
The Web App covers the whole insurance subscription process for direct private customers.

They can calculate their insurance premium and enter vehicle details.

End users can select from various types of insurance schemes.

Users can subscribe insurance policies using a screen swipe/ touch feature.

They can convert results into a PDF which they can download or email.
The Result
Rob showcased the first cut of the project to the largest Dutch insurance company. They were so impressed that they decided to partner with Rob for this project. They allowed Rob to use their Achmeabrand which was a big step forward for Rob. They branded the insurance platform with their Achmea name.
By now, Rob had started to consider us as his trusted partner and shared all his other ideas with Helios. The ideas are being converted into a platform with our consultancy. So far Rob asked us to develop 2 more projects. We have become long term business partners who love sharing ideas with each other. Once we have these projects in place, we will be sharing those stories with you.
Contact us should you also have an idea which requires a multitude of talent and a reliable partner to be implemented, whether you have a project defined and just need the talent or whether you need somebody to help define the project.